Best Glamping in BC, Canada at the Ultra-Private Siwash Star Camp™
For the best glamping in BC and Canada, featured in the Wall Street Journal, enjoy our ultra private Siwash Star Camp™. Sleep in a pioneer-style canvas wall tent under some of the world's clearest skies.
World-Class Glamping in the Wilds of BC

All resort guests have the opportunity to try glamping in style atop the Ridge at Siwash Lake. Based on availability, Siwash Star Camp™ can be booked for a three, four or seven night stay.

In our private dark sky reserve, glamping at Siwash is evolving into a luxury astro-travel experience with extraordinary star gazing. By adding a special sky light to our traditional prospector tents, we offer a rare adventure in the wilds that you'll cherish forever.

There is no better way for getting close to Nature and marveling at the sky, while still enjoying your comforts, than to try glamping within one of these luxury tents. Raw wilderness is literally all around.



Enjoy sleeping in fresh air under canvas, your own private campfire and cedar soak hot tub in the evenings, and on clear nights, world-class star gazing!



Siwash Star Camp™ is located on the Ridge portion of the property. From the Ranch House—which is the hub of the resort for dining, lounging and main guest lodgings — you will enjoy a 10-minute walk across the home meadow, over the lake via a solar-lit boardwalk, and up the trail through a rare and unique, post-wildfire snag forest that is carpeted with bright pink Fireweed flowers. Atop the Ridge, with panoramic views, awaits your lovely Star Camp™ tent, for the most private and exclusive glamping experience in Canada!

SIWASH STAR CAMP™ — "Centre of Camp" ROOM LAYOUT (2 tents not shown)


Exclusive Glamping at the Siwash Star Camp™

---

Capacity 8 guests (12 when using pullout sofas)
Four 17' x 14' white canvas wall tents on raised platforms, fully furnished, with glass-fronted wood-burning stoves and special sky watching domes over the beds
Set on a high ridge, amid a unique, post-wildfire ecosystem
Panoramic views over Siwash Lake and the Marble mountains
Spectacular sunrise, sunset, and expansive night skies
Star-gazing platform with SkyMaster Pro binoculars and luxe Siwash Star Beds
Private campfire pit
1 king bed or 2 singles and a pullout sofa bed in each tent
Three 3-piece bathroom facilities (one en-suite) located on site
Wood-fired, cedar soaker-style hot tub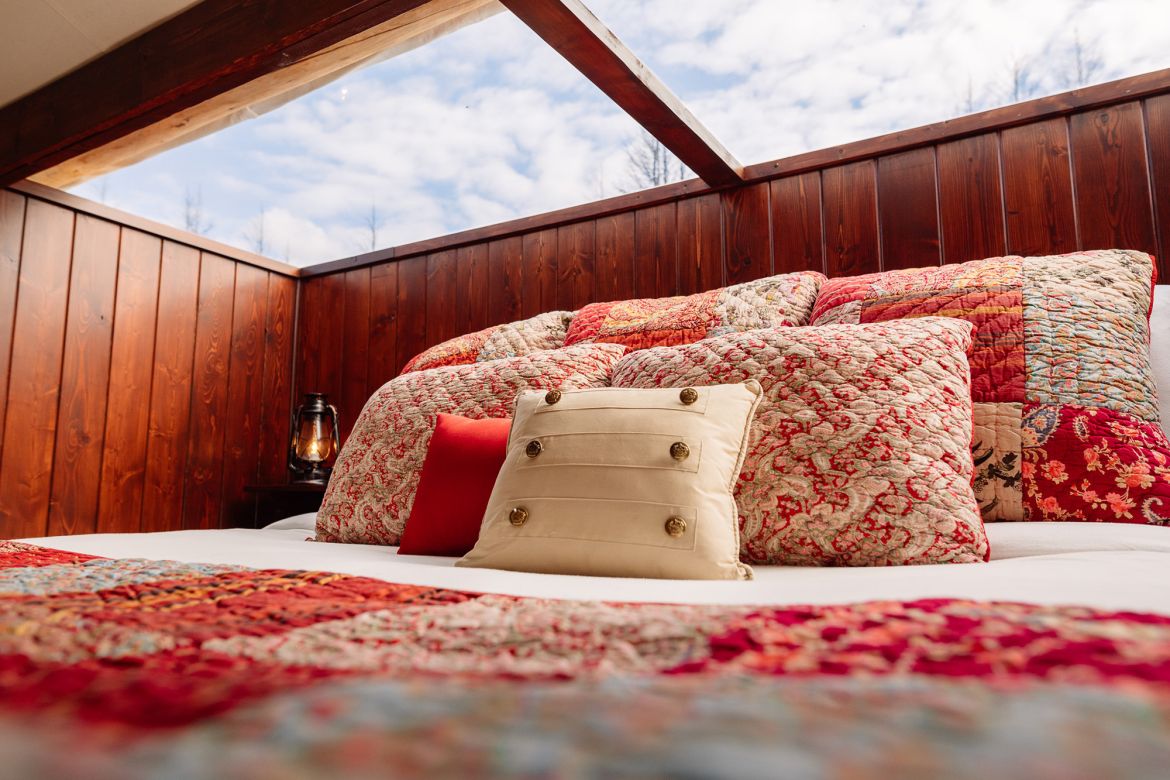 Imagine this....

As night falls, you're content under canvas beneath the stars while snuggled amid the finest linens. A loon call resonates from across the lake — the quintessential song of the wilds. A faint scent of wood smoke lingers from fading campfire embers, while a ranch horse whinnies in the distance.

Later, the moon casts gossamer threads of light across your canopy above. Through the window above your bed, you watch the Milky Way stretch across the night sky... Then at dawn, after a blissfully sound sleep, you awaken to crisp country air. Warmth radiates through your tent from the sun's golden glow upon canvas.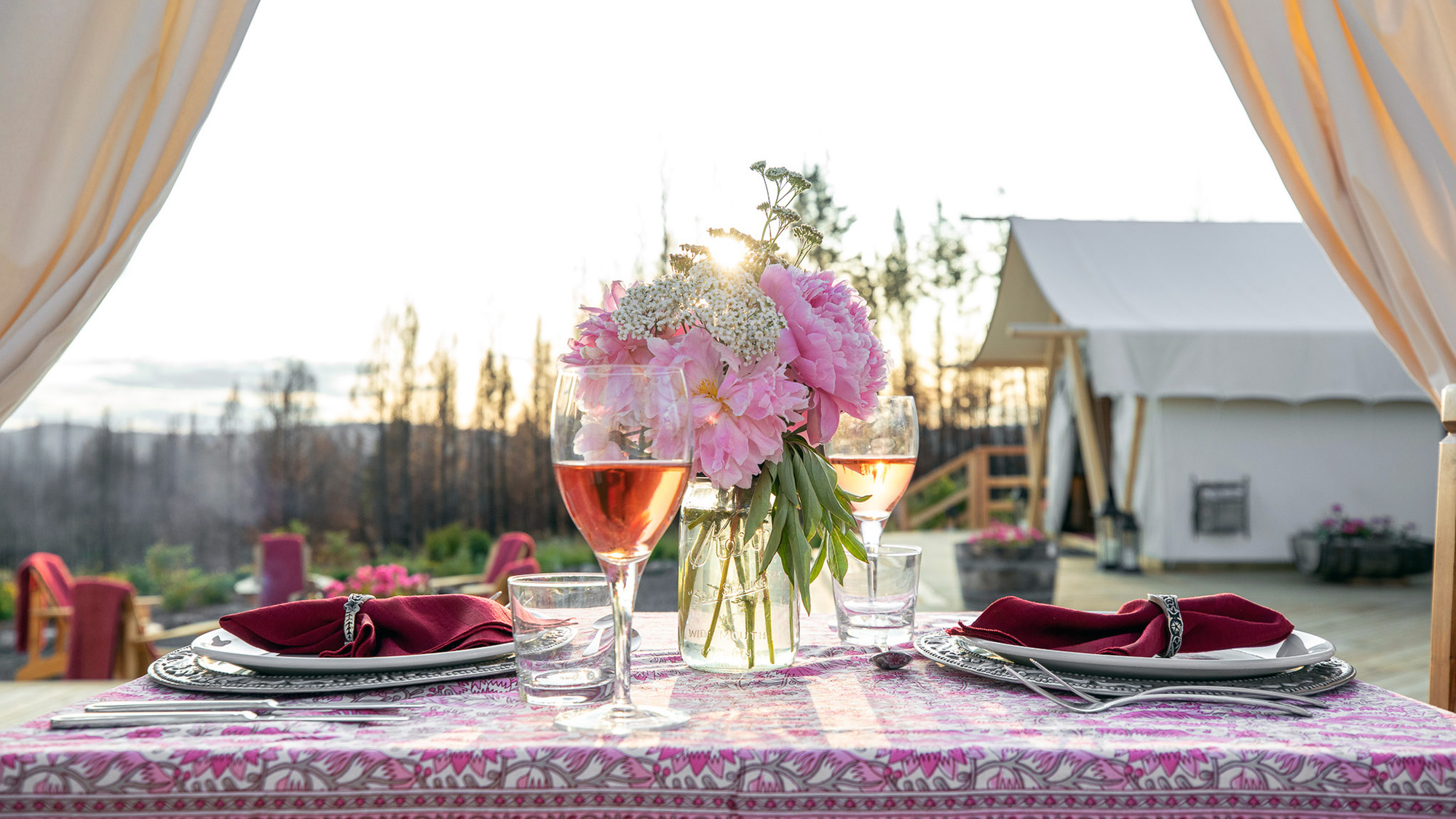 World-Class Glamping
Siwash Star Camp™




---

We have been watching the land on the Ridge regenerate and flourish with awe, following the 2017 forest fire. Nature's enduring powers and beauty are incredible!



We have added a private tented camp with new luxury tents in this unique setting to resurrect the world-class Glamping experience at Siwash.

Siwash Star Camp™ made its debut in mid-summer of 2019!

The views of wild meadows, the lake and distant mountains from atop the Ridge are stunning. It's the best place on the property to watch a stellar sunrise or sunset.

At night, by the warmth of a campfire, gaze at the most remarkable starlit skies. If your lucky, you'll enjoy a show of Aurora Borealis—the Northern Lights!






---