Luxury Wilderness Lodge Accommodations | Siwash Star Camp™
Enjoy some of the most luxurious wilderness lodge accommodations in Canada at Siwash Lake. Your glamping adventure in the wilds of BC begins at Star Camp™ amid

our private dark sky reserve.

Glamping at Siwash Lake is a luxury eco adventure experience with extraordinary star gazing. Sleep in a 5-star, custom built tent under some of the world's clearest skies.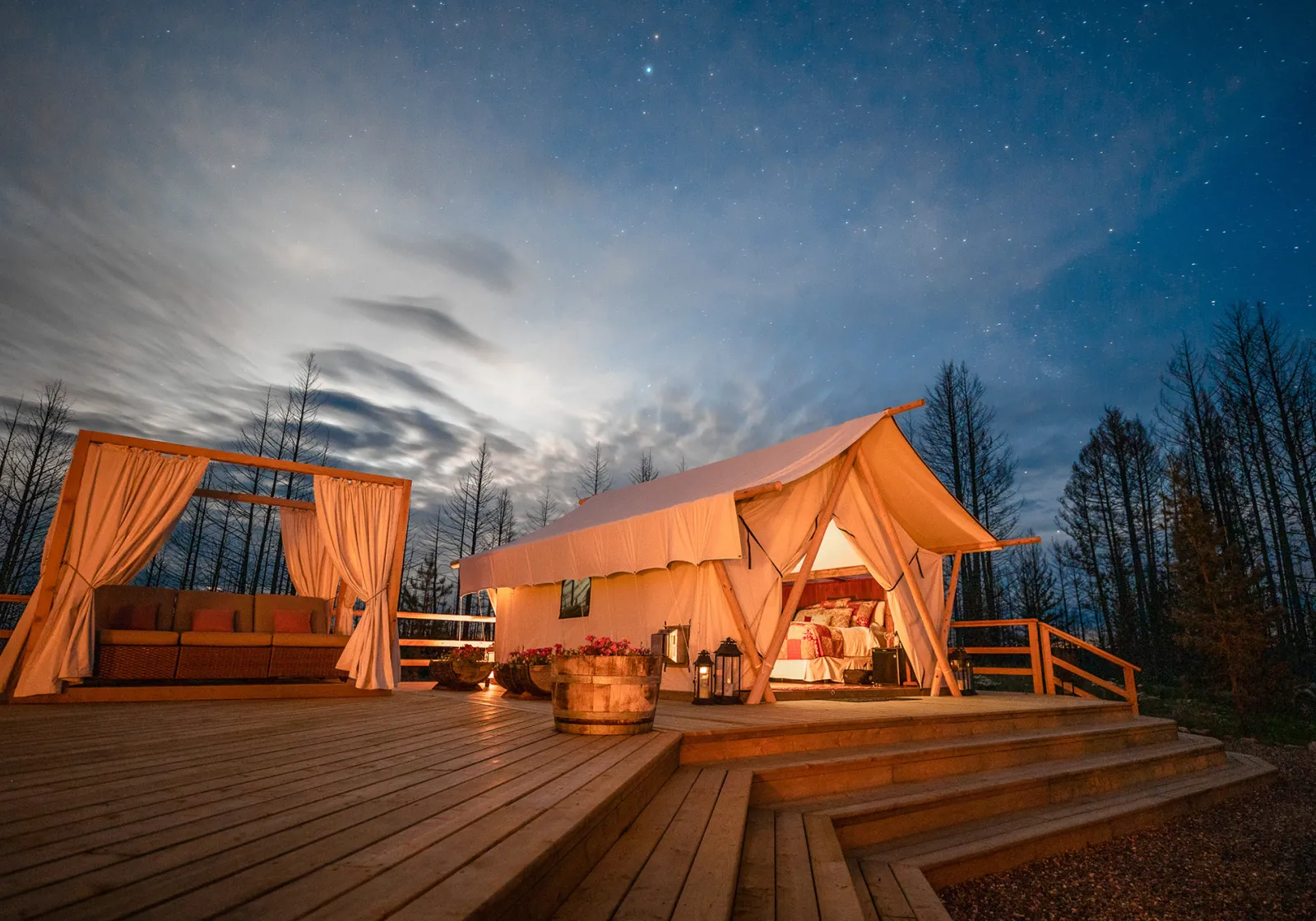 Close to Nature...
At Star Camp, enjoy sleeping in fresh air under canvas, sweeping views of the lake and wilderness beyond, and a wood-fired hot tub in the evenings. On clear nights, snuggle under the softest linens and gaze up at the stars from the expanse of your king bed.

There is no better way for getting close to Nature and marveling at the sky, while still enjoying your comforts, than to stay in one of these luxury tents. Explore the wilderness in style!



| | | |
| --- | --- | --- |
| | | |


Deluxe Tent

Perched on wooden platforms atop a high ridge where you can spot moose foraging on far lake shore, your deluxe tent features a custom sky-light over a king bed that can be split into two single beds, plus a queen-size sofa bed.

Each tent features hardwood floors, antique furnishings, and a wrought iron, glass-fronted fireplace. Panoramic vistas overlook verdant pastures, shimmering Siwash Lake, and the distant snow-capped mountains. A separate wash house with private bathrooms is located just steps away from each tent.



| | | |
| --- | --- | --- |
| | | |

Signature En-suite Tent

On the secluded side of Star Camp, set in a meadow of wildflowers, is your signature en-suite tent.

Throw open your privacy shutters on the east side and watch sunrise over the lake as you take an invigorating morning shower in the great outdoors. Or gaze out over the wilds to the far-off Marble mountains, while you enjoy a glass of chardonnay on your west facing deck at sunset.

This tent category features a custom sky-light over a luxurious king bed, plus a queen-size sofa bed. The signature en-suite tent has hardwood floors, antique furnishings, a wrought iron, glass-fronted fireplace, and a 2-piece en-suite bathroom under canvas. A French door leads to a private cedar-clad patio with outdoor shower.


| | | |
| --- | --- | --- |
| | | |
Custom-Built Luxury Camp
Inspired by the rebirth of the surrounding landscape, we worked with canvas and wood while applying traditional frontier and Indigenous designs to create structures that harmonize with the regenerating forest, so our guests feel at one with Nature.

By adding a special sky light to our classic white prospector tents, we offer a rare adventure in the wilds that you'll cherish forever. These lovely canvas structures are built on raised platforms for minimal environmental impact.



| | | |
| --- | --- | --- |
| | | |
World-Class Glamping in the Wilds of BC
Siwash Lake Star Camp is located on the ridge portion of the property, which is across the lake from the ranch.

From the main ranch house — which is the hub of the resort for dining, lounging and guest lodge rooms — you will enjoy a 10-minute walk across the home meadow, over the lake via a solar-lit boardwalk, and up the trail through a rare and unique, post-wildfire snag forest that is carpeted with bright pink fireweed flowers.

Atop the ridge, with panoramic views, awaits your beautiful Star Camp tent.

Based on availability, Siwash Lake Star Camp can be booked for a three, four or seven night stay.

Tents can be individually booked, or for one of the most private and exclusive glamping experiences in Canada, a buy-out of the whole camp is suggested.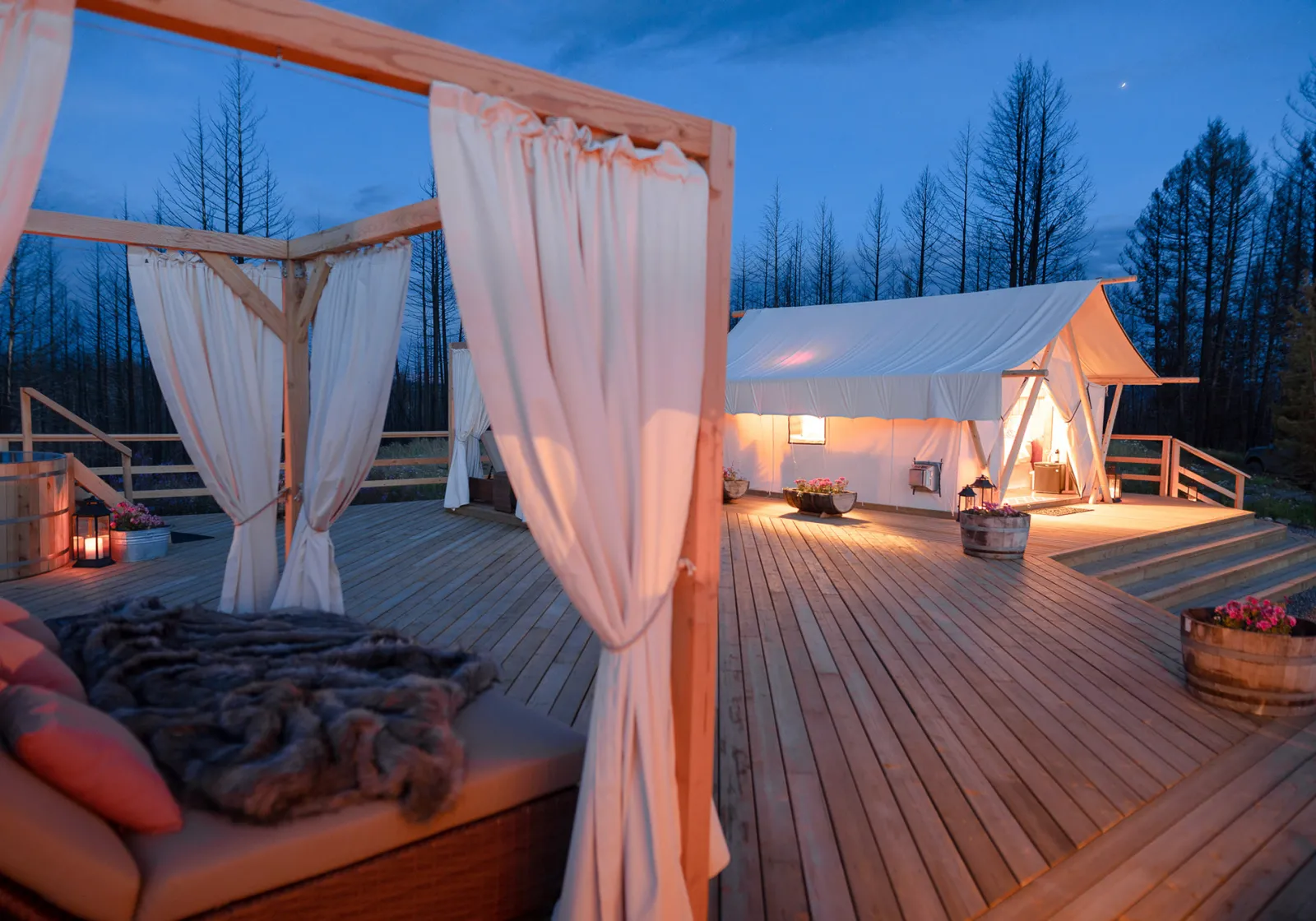 Star Camp Features

---
400 sq. ft. (Deluxe Tent category) and 700 sq. ft (En-suite Tent category) custom tents on raised platforms, fully furnished, with glass-fronted wood-burning stoves and special sky watching domes over the beds
Set on a high ridge, amid a unique, post-wildfire ecosystem
Panoramic views over Siwash Lake and the Marble mountains
Spectacular sunrise, sunset, and expansive night skies
Star-gazing platform with SkyMaster Pro binoculars and Siwash Star Beds
Private campfire pit (available for private buyout bookings only)
1 king bed or 2 singles and a pullout queen-size sofa bed in each tent
Private indoor bathroom facilities (for Deluxe tent category) just steps away from the tents
In-tent bathroom and cedar clad outdoor shower for En-suite tent category
Wood-fired, cedar soaker-style hot tub



Imagine this....
As night falls, you're content under canvas beneath the stars while snuggled amid the finest linens. A loon call resonates from across the lake — the quintessential song of the wilds. A faint scent of wood smoke lingers from fading campfire embers, while a ranch horse whinnies in the distance.

Later, the moon casts gossamer threads of light across your canopy above. Through the window above your bed, you watch the Milky Way stretch across the night sky... Then at dawn, after a blissfully sound sleep, you awaken to crisp country air. Warmth radiates through your tent from the sun's golden glow upon canvas.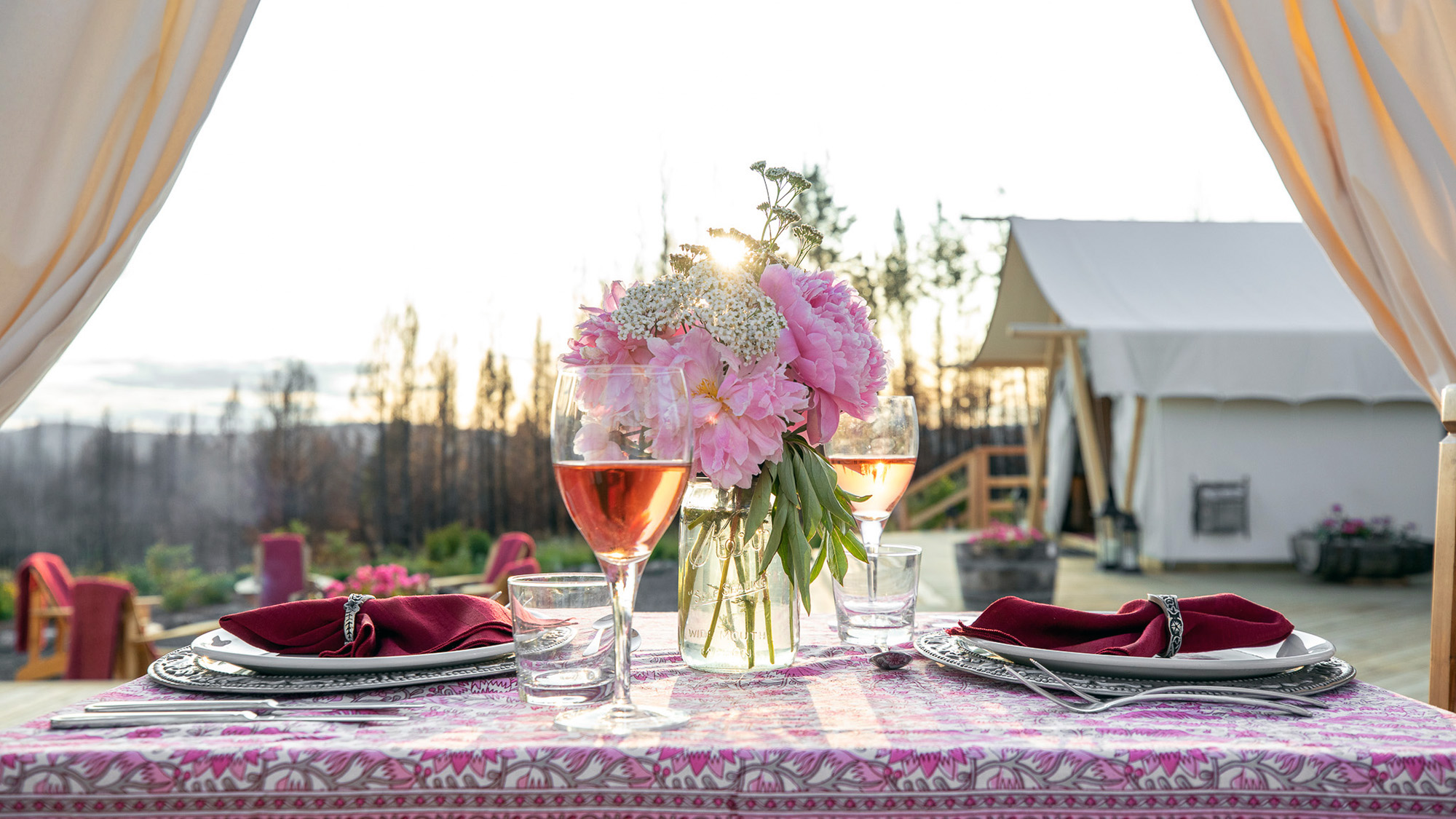 World-Class Glamping

We have been watching the land on the Ridge regenerate and flourish with awe, following the 2017 forest fire. Nature's enduring powers and beauty are incredible!



In 2019, we began to custom build the new luxury canvas structures described above. Measuring over 1000 square meters, Star Camp is now a self-contained private haven where families can unwind, relax and rest.

The views of wild meadows, the lake and distant mountains from atop the Ridge are stunning. It's the best place on the property to watch a stellar sunrise or sunset.

At night, by the warmth of a campfire, gaze at the most remarkable starlit skies. If you're lucky, you'll enjoy a show of Aurora Borealis — the Northern Lights!

INQUIRE >


---