Artfully Combined ~ An Authentic Ranch & Wilderness Lodge
Siwash Lake Wilderness Resort artfully combines a luxury ranch, wilderness lodge and tented camp amid the remote Cariboo region of British Columbia.

Off-the beaten-path and ultra-private, the award-winning hideaway at Siwash Lake is a magical place of unexpected treasures; its rich heritage shaped by Nature.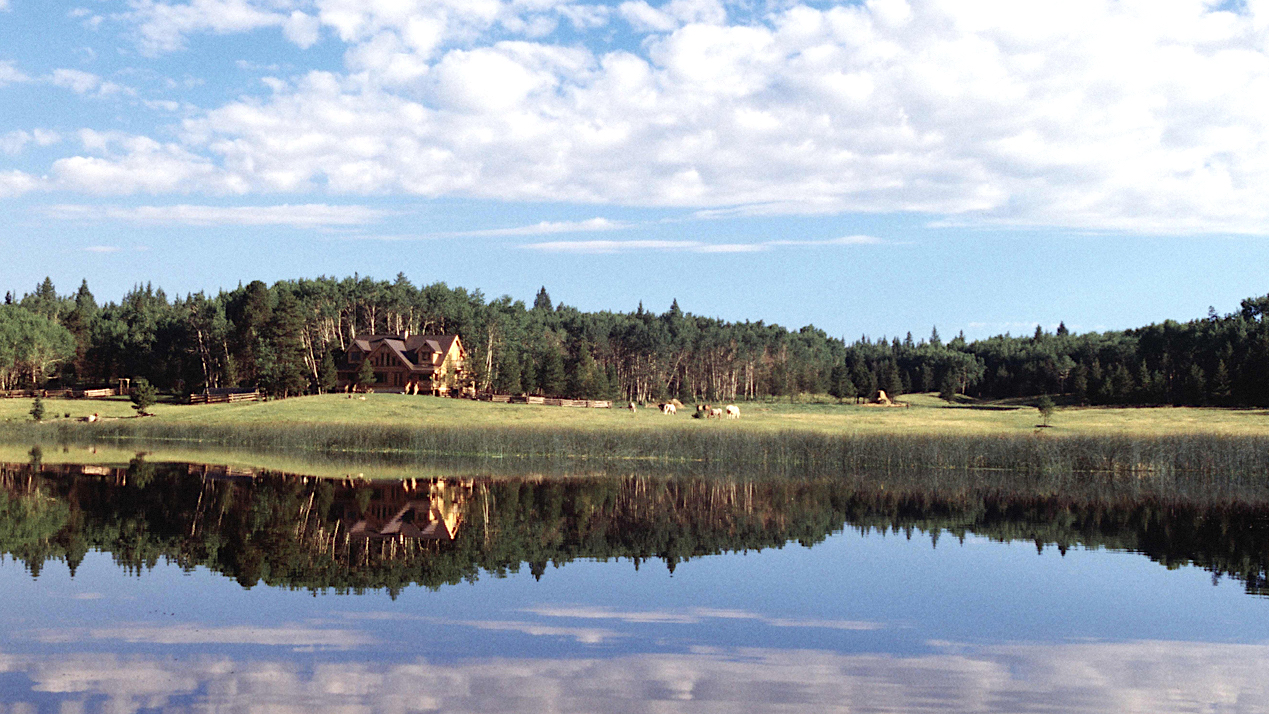 Siwash Lake Ranch, pre-wildfire, circa 1990's
Our Legacy
After being struck by a forest fire in 2017, Siwash Lake has become a powerful oasis in the wild, surrounded by wide open skies, rolling hills bejeweled with lakes, and meadows carpeted with vibrant pink fireweed — a pioneer species that thrives after a wildfire. Fireweed is a beautiful wildflower found in abundance at Siwash Lake; it represents hope, resilience, and adaptability.

In this mystical setting, we'll help you and your loved ones reconnect amid 10,000 acres of rugged wilderness. Our honest, home-spun collection of activities is educational in Nature, with private guides and tailor made itineraries to satisfy anyone's wildest desire.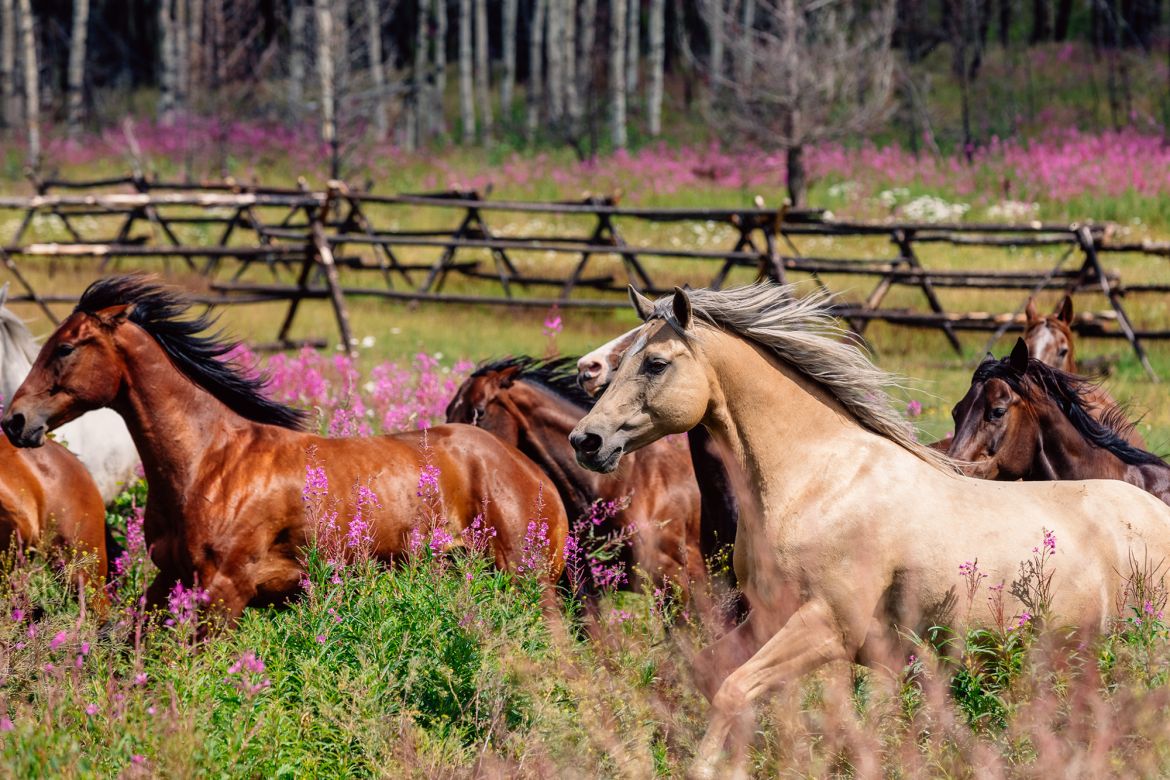 A Story of 100 Years

Siwash Lake Ranch was borne of great reverence for the land, zest for adventure, and deep connection with Nature.

These ancestral lands of the Secwepemc First Nation became deeded via a Certificate of Pre-Emption (land given to homesteaders by the provincial government) to a Scottish settler, Samuel Lloyd Burns, in 1912. This was under western law established during the Gold Rush years on the Pacific Northwest frontier.

Sadly, Burns died fighting in the first World War. The land passed to the Komori brothers who had emigrated to Canada from Japan. Following release from a World War ll internment camp, they purchased large tracts of land in the area and set up logging operations. Long after they finished harvesting timber at Siwash Lake — while thankfully leaving most of the old growth trees standing — their heirs struck an agreement for sale with a local rancher in the mid 1980's. Wide open meadows rolled down to lake shore from the forest, and these vast grasslands were ideal for cattle grazing.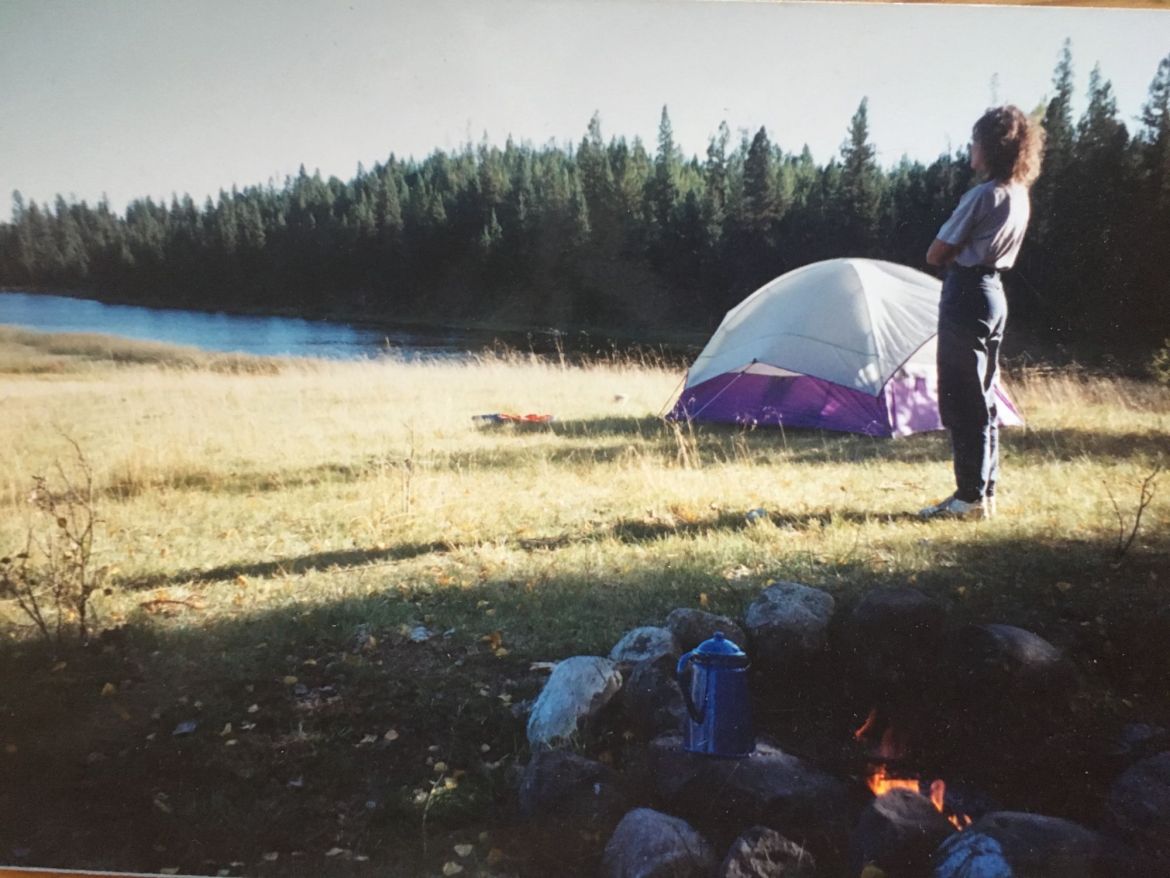 Establishing the Ranch

The rancher soon forwarded his sale agreement with the Komori Estate to the current owner of Siwash Lake, a young woman from Vancouver, Allyson Rogers. Over the following decade she fulfilled her dream of becoming a wilderness dweller, and she built a beautiful ranch from raw land, lovingly hewn in complete harmony with the rugged terrain.

Eco-tourism caught on in the early 90's, and Allyson began welcoming guests to her piece of paradise. In 2001 she met her business partner, Roy Grinder, an expert woodsman and member of the Esk'etemc Nation. Together they set about developing a world-class tourism and hospitality operation at Siwash Lake.


Compelling Characters
The sequel to the frontier days at Siwash Lake spans almost 40 years under its current guardianship — Allyson and Roy's adult children now help to run the company.

The entire story from its beginnings to present day is a long and fascinating saga of courage, perseverance, and passion for the land. Many compelling characters have contributed throughout. Captivating details are best heard in person, while sat next to a campfire at Siwash Lake.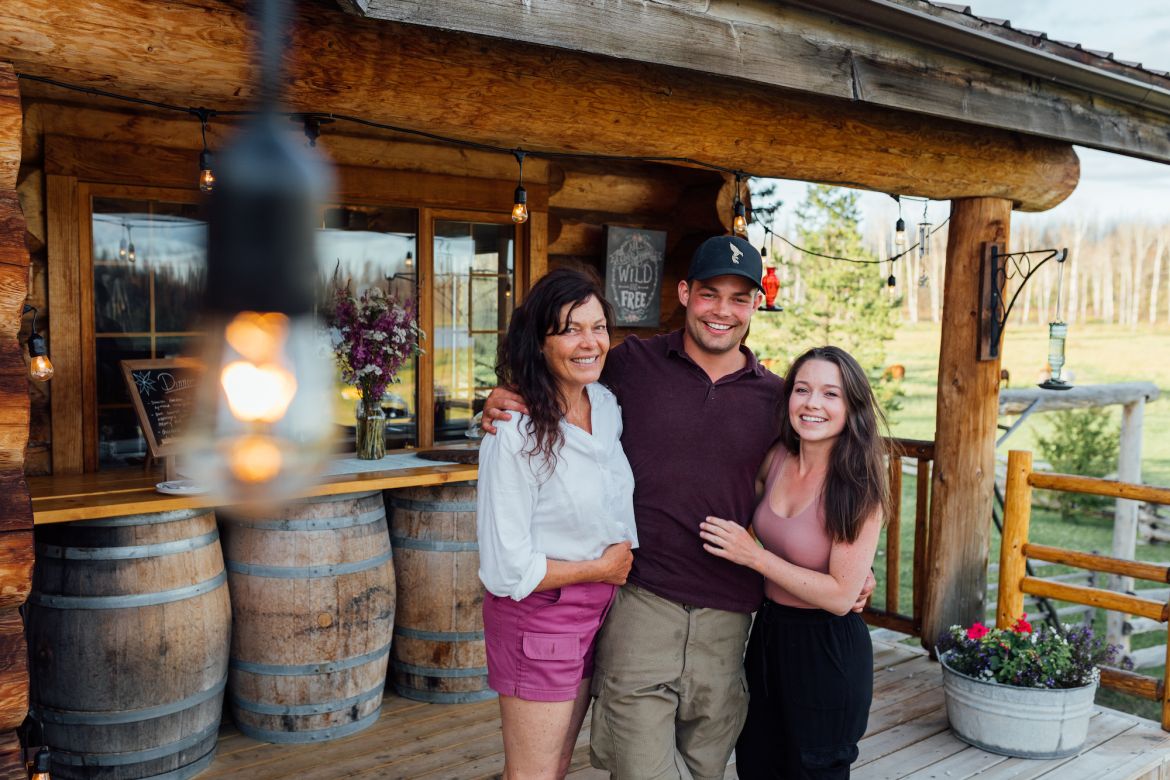 The Wildfire
In late summer 2017, a climate event at Siwash Lake was immensely transformative... A massive forest fire, the 200,000 hectare Elephant Hill wildfire, swept through the central Cariboo. An epic battle ensued. A few brave and hardy souls put their lives on the line to save Siwash Lake. The fire consumed most of the surrounding green forest, plus the original luxury tents and the beautiful, canvas canopied dining Pavilion.

With heroic effort by the loyal team, the heart of the operation was saved. The main lodge, barn and corrals, staff camp, home meadows, and lakefront endured. As well, Siwash Lake's sacred places on the range survived, including secluded backcountry rivers, lush waterfalls, and rolling meadows for canters on horseback. The ebony-hued forest linking them all together is truly striking.



Transformation
Siwash Lake is now, by contrast, a lush green oasis that the fire did not affect — a powerful sanctuary in the wild. As the scenery and landscape have transformed quite dramatically, fire ecology is interwoven throughout the adventure programs to showcase the daunting power and endless beauty of Mother Nature.
Indigenous people call the regeneration of land after wildfire, the Rebirth. Embracing this spirit of renewal, the Siwash Lake family forges onward.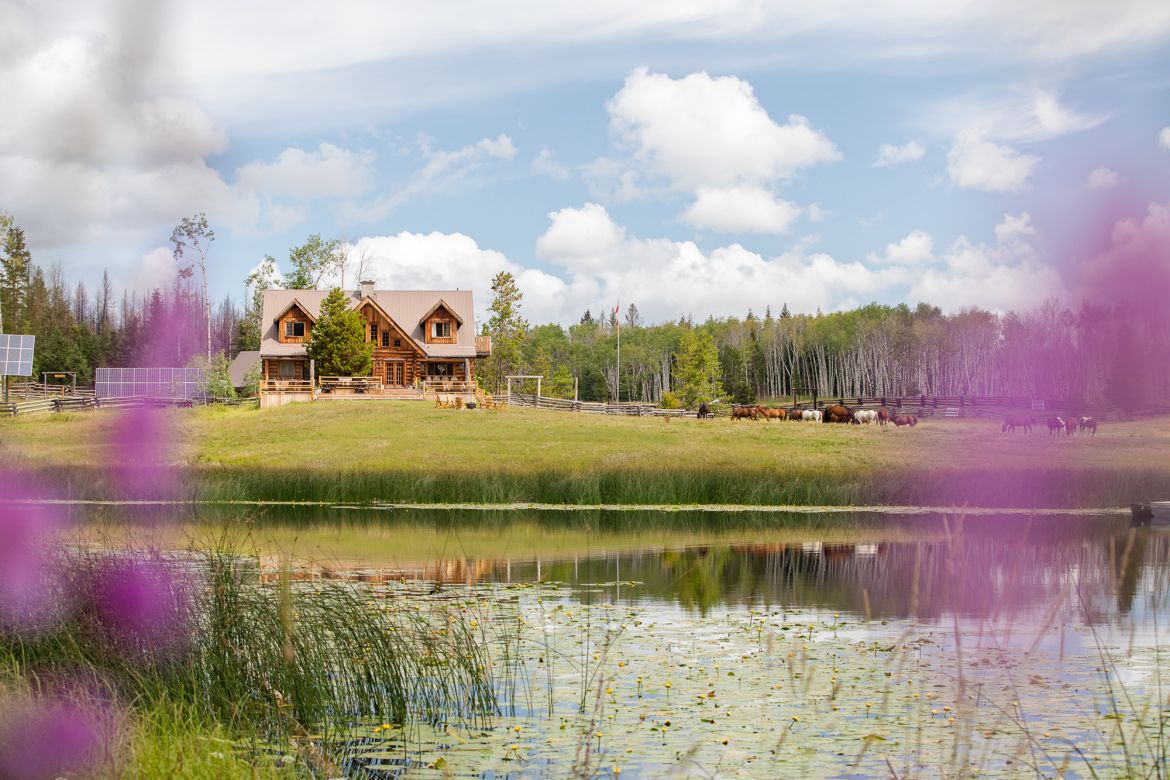 Curated Adventures



Adventures at Siwash Lake are carefully crafted, immersive experiences amid Nature. They are wholly authentic and designed with the owners' desire to share

their most favourite, fun and special things to do in the wild at Siwash Lake, utilizing their years of knowledge gained as genuine wilderness dwellers.

In early days, when the ranch was most famous for its dedicated horse program, people of all riding abilities explored BC's rugged heartland on horseback as part of the SiwashSynergy™ horse riding program. A signature experience at Siwash Lake, it is still regarded as one Canada's finest equine vacation experiences.

Privately guided wilderness adventures now compliment the horseback riding, along with a luxury tented camp. And rather than transition exclusively from a ranch to a wilderness lodge, over the years these themes have become entwined at Siwash Lake — a bucolic blend of experiences under the banner of an all-inclusive resort.


| | | |
| --- | --- | --- |
| | | |
Experiences in Nature

In addition to horses, guests now enjoy fly-fishing for fat, playful trout in wilderness lakes and rivers. They hone their frontier skills in bushcraft, 3D all-terrain archery, and target shooting. They learn about fire ecology while hiking to nearby waterfalls.

Guests play on Siwash Lake — swimming, kayaking, canoeing and paddle boarding. They practice yoga outdoors, watch for birds and spot wildlife in natural habitat, and gaze in wonder at Star Camp's incredible night skies.

Classic whitewater river rafting is now available during a stay at Siwash Lake. Other fabulous expeditions include alpine hiking to a 7,000 foot mountain summit, and an interpretive helicopter adventure to the mighty Fraser Canyon portraying ancient geological formations, gold rush history, and Indigenous culture.

A full day safari to the River Outpost — by horseback, bike, or on foot — offers a private riverbank picnic accompanied by classic river fly fishing, lazy inner tube floats, and swimming in the wild.


| | | |
| --- | --- | --- |
| | | |
A Flair for Design

Enhancing these robust adventure experiences are the food and accommodations at Siwash Lake. Several opulent canvas 'Glamping' structures were built in 2011-2015 to embellish guest dining and accommodation, with exquisite views that paired luxury amid Nature with the rustic ambience of the Cariboo. They were re-invented following the forest fire.

Currently, frontier-style Accommodations feature suites in the hand-hewn log Ranch House, a charming barn loft suite, and luxury tents at Siwash Star Camp™. As always, 5-star, Open-Air Dining focuses on organic food that is grown on the ranch and foraged from the wilds nearby. The ever present theme steered by over the years is one of authenticity, sustainability and service excellence.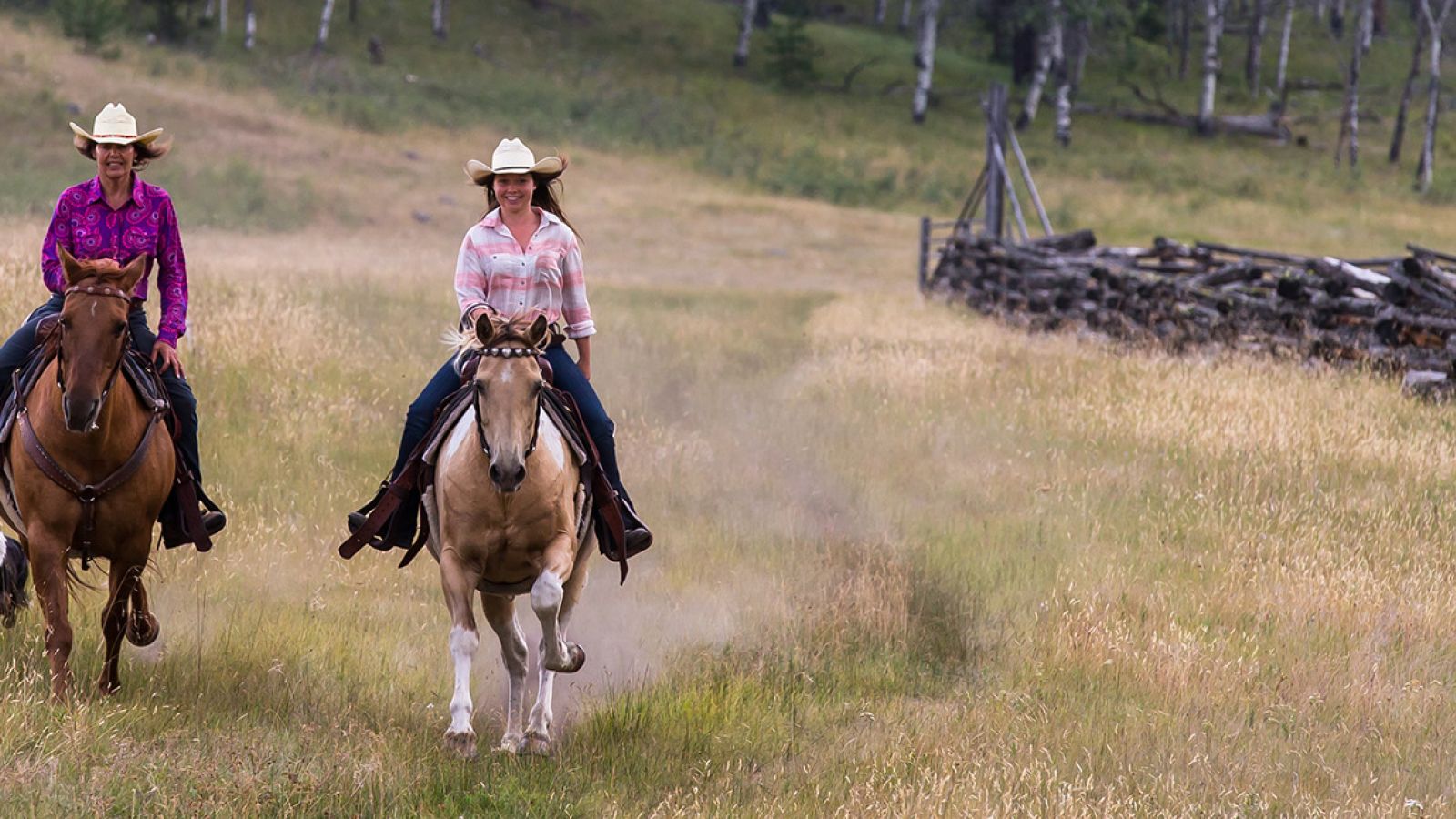 Awards & Affiliations

---

2022 BC Hospitality & Tourism Industry Award for Sustainability

"Platinum" certified by Green Step Sustainable Tourism

Founding Member, Magnificent 7 Luxury Wilderness Lodges of Canada

Signature Experience for Destination Canada
SiwashSynergy™ with Horses

Conde Nast Johannsens Award Winner, 2021, Best for Sustainability

Conde Nast Johannsens Award Winner, 2020, Best for Families

National Geographic Unique Lodge of the World, 2014-2020

Conde Nast Johannsens Award Winner, 2019, Best Small & Exclusive Property

Featured in Forbes, 2017, How to Build a World Class Luxury Resort

Rated among the 10 greatest ranches in North America by USA Today



"It is our mission to share the Siwash Lake experience with sophisticated travelers from around the world by offering unique, all-inclusive ranch vacations that feature nature-based adventure, luxury accommodation, fine cuisine, and first-class service… a soul-pleasing blend of the rustic and the refined, all delivered in style with a smile.

In the process, we shall continue developing a resort that's in complete harmony with the surrounding wilderness and we shall promote stewardship of the land, freedom of spirit, personal growth, and an appreciation for family and the finer things in life."
The original Siwash Lake Mission Statement, written in 2001, has withstood the test of time