Water Sports in the Siwash Lake Wilderness
Small secluded lakes, rivers and streams meander throughout our wilderness, beckoning for private plunges into these backcountry waters during your horseback riding and hiking adventures.

You can swim and float tube in our meandering wilderness river, and paddle board, canoe, swim and kayak in the wild on Siwash Lake.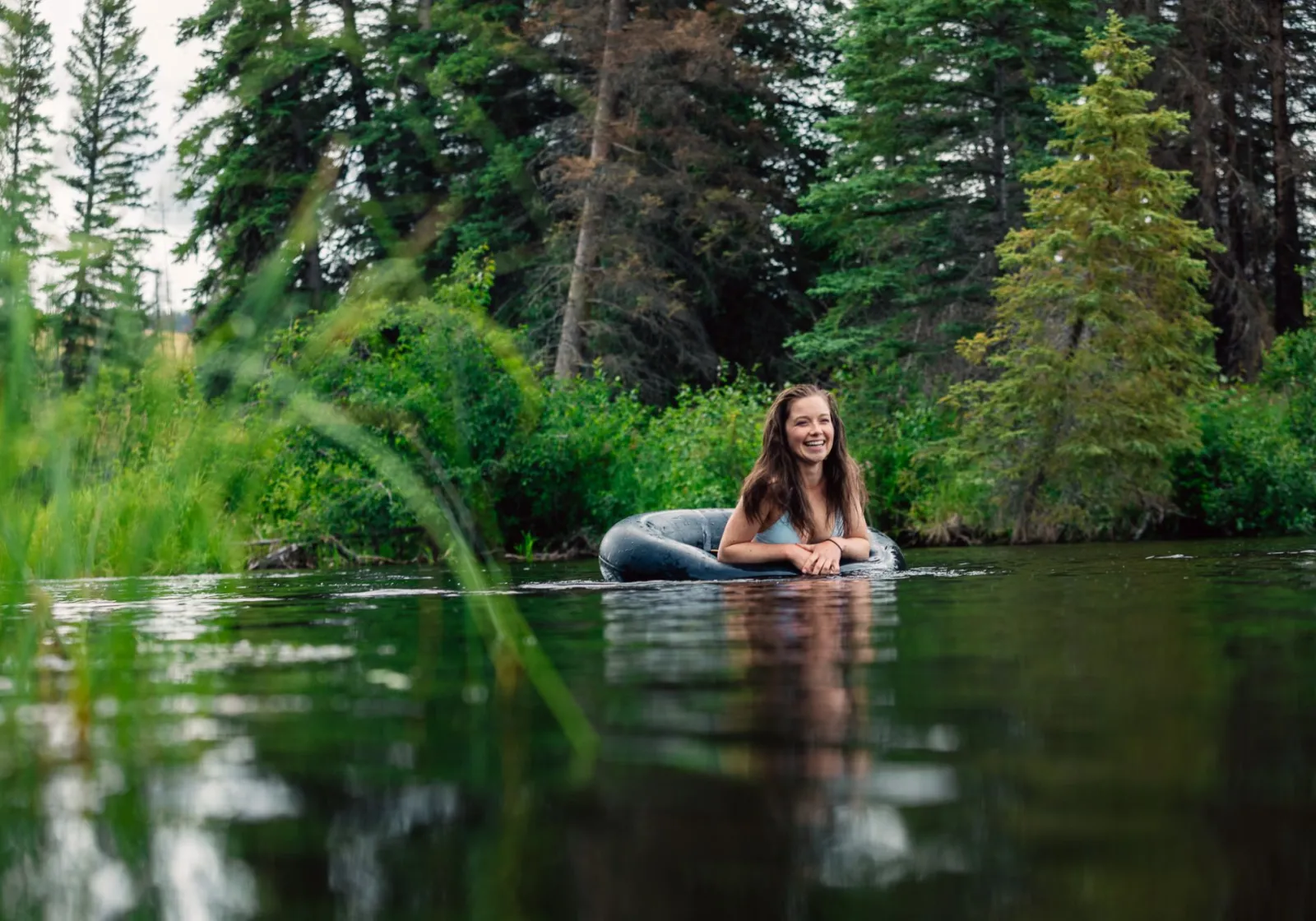 Swimming
Siwash Lake is a private lake and we have a dock beginning at shore's edge that extends out past the reeds for wonderful swimming right in front of the lodge, as well as another dock further out in deep water. The water is fresh and clear, lightly mineralized, with a depth of about 20 feet, so the temperature is just right for cooling off. Most of our guests, especially the younger bunch, make this a daily event. The lake is a half mile long so keen swimmers can get a good workout if they wish.
There's plenty of other opportunities for swimming in the wild while partaking in our guided half-day adventures. Try cooling off in the crystal clear waters of the bubbling pool during our signature
Waterfall Fire Ecology Hike™
. During day two of the Equine Experience, the River Ride, there's space in your saddle bags for your swim gear. Your trusty mount will be tied safely to the nearest tree while you take a refreshing dip in the river.

Stand-Up Paddle Boarding
A gentle way to build fitness, by improving your balance and strengthening your core, is to try SUPPING, or stand-up paddle boarding. Exploring Siwash Lake by SUP is a lovely way to start the day before breakfast, or devote to a lazy afternoon. A float around the lake will reveal endless aquatic wonders amid Nature.

Canoeing & Kayaking
The lake is a freshwater playground for recreational paddlers. Secret waterways, reflecting the ever-changing Cariboo skies, weave in and out of rich riparian zones that form wildlife habitat. Paddle out to far side of the lake, watching for foraging black bear mothers and their cubs, beavers busily building at their lodge, and bald eagles soaring overhead.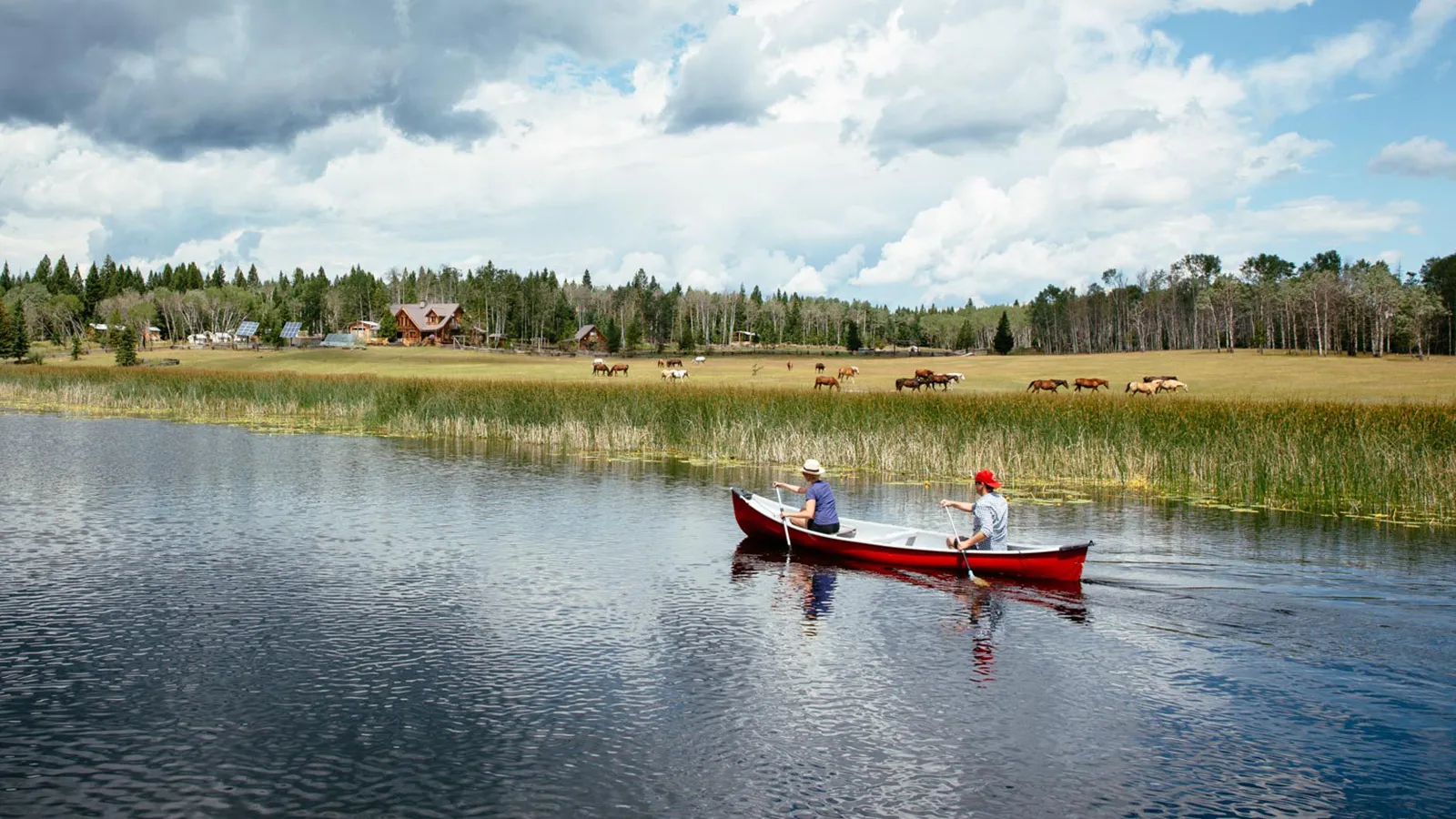 Water Play in the Wild


Boaters can flex their rowing muscles and investigate our aquatic flora and fauna—an old beaver lodge, unusual breeds of wild ducks and geese, and brilliant yellow water lilies. We have several easily maneuvered, sturdy row boats for guests to use between dawn and dusk.

You can skim across shimmering Siwash Lake in one of our sleek, light-weight kayaks. For twosomes, we also have canoes available.

Or try stand-up paddle boarding—you never know who may join you!



---




Children under the ages of 12 must be accompanied by an adult or legal guardian at all times when in, on, or near any body of water. Life jackets are provided for all ages and are mandatory for children. We are pleased to give boating lessons if needed. For those uncomfortable with the motions of a canoe, kayak or paddle board, we also have a sturdy, flat bottomed rowboat.