World-Class Cuisine | Farm-Fresh at Siwash Lake Wilderness Resort
Your experience with food and wine will go well beyond what you would expect when dining 'off-grid' in the wilderness. Siwash food is sophisticated, yet simple and nourishing. Using the best ingredients, we prepare all meals fresh from scratch in the Ranch House kitchen.
Siwash food is prepared fresh from scratch each day in our open-plan country kitchen, using the very best ingredients.

Imagine home-baked bread served with rose petal jelly, or a salad that is garnished with house-made pickles and candied spruce tips. Have you ever tried cattail hearts? Delicious... like white asparagus!

We enrich your dining experience with edible flowers, herbs and berries foraged from the wilds. Foraging has become a daily routine for our chef and his helpers.

It's our goal to have something freshly harvested from the great outdoors on your plate at every meal. In this way, we bring Nature into the dining room.

Smoked trout (that we both catch and smoke on site), river caught salmon and wild venison from the post-fire Snag forests nearby, are resort specialties.
At Siwash we are famous for exquisite pasture-to-plate cuisine with a daily set menu in keeping with what's fresh and seasonal; first and foremost from what is farmed on our ranch or available locally.
Whenever possible, we incorporate home grown food—mouth-watering beef and pork, eggs laid that morning, and baby greens for your salads—the former from our happy, free-ranging animals, and the latter picked right from our garden. We are proud to share with you delicious honey harvested from our own bee hives.
Our ranch chef chef makes wonderful roasted vegetable salads, often featuring ranch broccolini that out-flavours anything you could buy at the grocery store. Charcuterie using our grass-fed meats is a house specialty. You'll love our home-made cheeses and pasta made from scratch.
Our Canadian farm-fresh cuisine can best be described as a modern mosaic of global flavours—a sensational fusion of international dishes plated with Siwash-style flare.
We are pleased to satisfy special dietary needs, including gluten or lactose-free, and will prepare vegan and vegetarian dishes when notified in advance. Meals can be simplified for young children.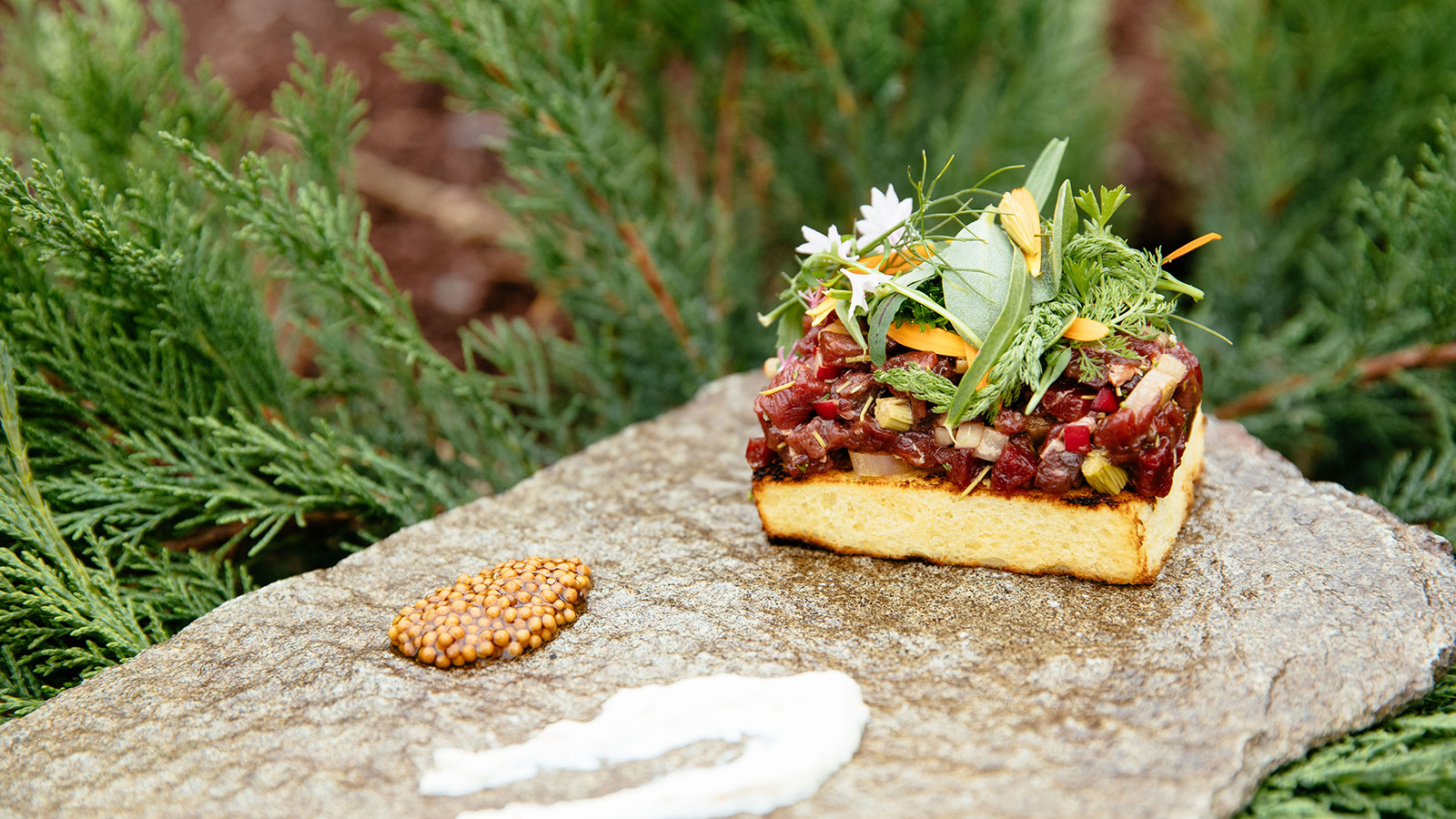 The Resort's Organic, Country Cuisine is said to Rival Fine City Dining.

---




Everything tastes better outdoors. There is nothing finer for wetting one's appetite than abundant fresh air and exercise, which you will have plenty of, during a day of adventure at Siwash!

Although it is designed for sophisticated palates, our 5-star food is not overly fussy and fancy; it's simply very flavourful, light, healthy and nourishing.
---