A Resort Between Vancouver & the Rockies | Getting to Siwash Lake
Get to Siwash Lake in 90 minutes by floatplane from Vancouver. Siwash Lake lays between BC's coast & the Rocky Mountains: a very scenic route for guests driving between Whistler, Banff and Jasper.
Siwash Lake is remarkably remote, yet easily accessible. We keep the exact location a secret until you're ready to book with us, to maintain the hideaway appeal and privacy for our guests. Those who don't like small planes or driving can fly to one of our two regional airports.
Siwash Lake is off the beaten path in a semi-remote wilderness area of the Cariboo region; the south central interior of British Columbia. The resort is nestled at 3,600 feet (1200 metres) above sea level, high on the Bonaparte Plateau at the foot of the Cariboo Mountains, between the larger Coastal and Rocky Mountain ranges.

If Siwash is your sole destination, fly in from anywhere in the world to one of our two regional airports. Or, we're an easy half-day drive for guests coming up directly from Vancouver or from Whistler. Getting here is easy by vehicle via several incredibly scenic drives on route between the coast and the Rockies.

We are approximately 275 miles (460 kilometres) — a scenic 5-6 hour drive — north-east from Vancouver.

It's only a two hour drive to the resort from the closest regional airport at Williams Lake (YWL) and 2.5 hours from our other regional airport at Kamloops (YKA).

For those who don't wish to drive, you can fly direct to Siwash by float plane or helicopter. Private jets can land and park only 45 minutes away.

Getting to Siwash

---

90 minutes direct flight from Vancouver by float plane
Located halfway between British Columbia's west coast and the Rocky Mountains
Elevation: 3,600 feet (1200 metres) above sea level
2 hours drive from Williams Lake Regional Airport YWL
3 hours drive from Kamloops Regional Airport YKA
4 hours drive from Whistler
5 hours drive from Jasper
5-6 hours drive from Vancouver International Airport YVR
5-6 hours drive from Lake Louise
6-7 hours drive from Banff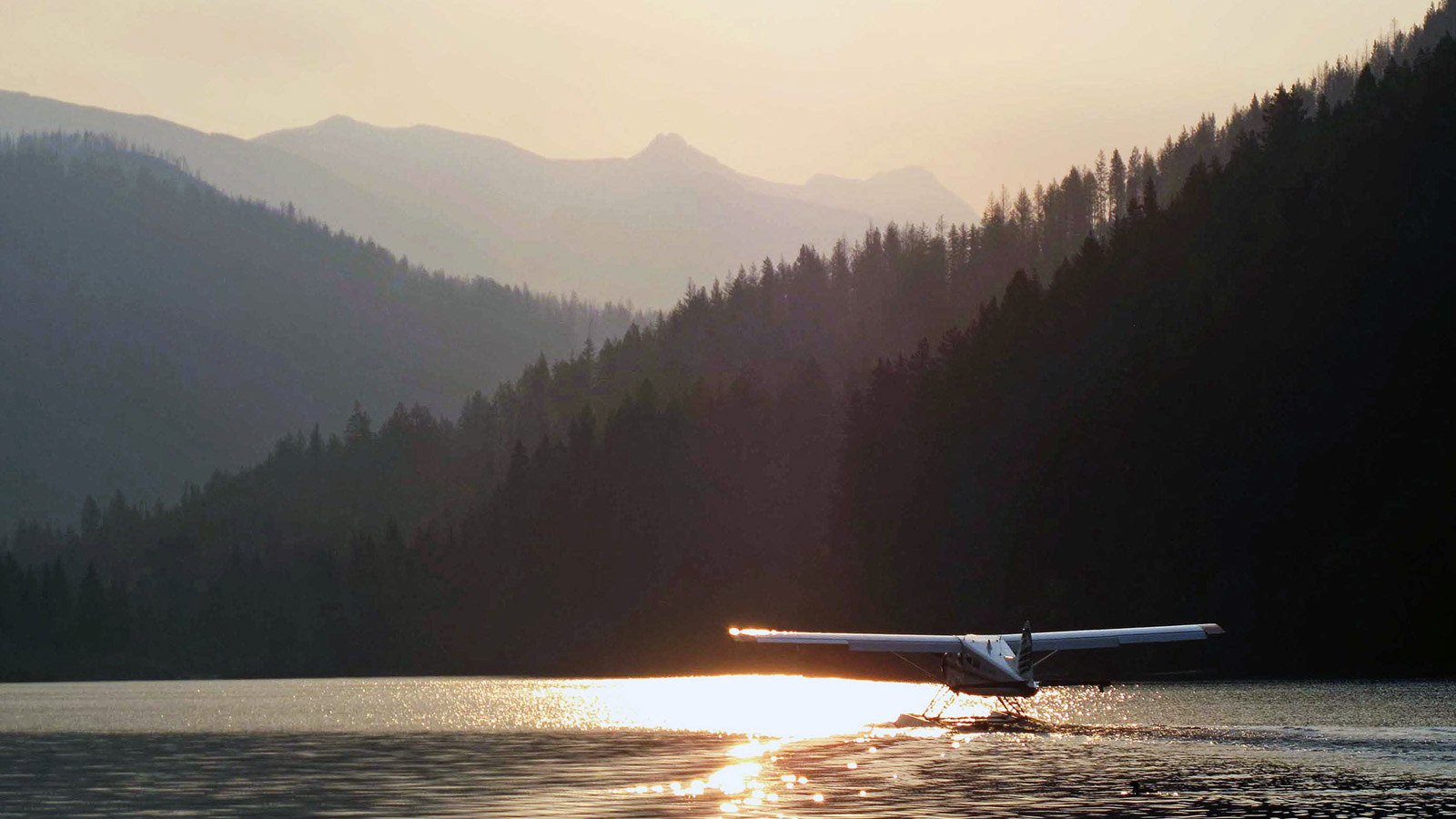 Float Plane Direct to Siwash

---


Siwash is an easy, quick trip from Vancouver when flying directly to the resort in a float plane. Or for guests coming from Whistler, we can arrange a private charter flight.

We work with a couple of very reputable companies that have impeccable safety records, comfy planes and professional bush pilots who will narrate your scenic journey.

Depending on the size of group, the plane will be a DeHavilland Beaver for 2-5 passengers + luggage, a Turbo Beaver for 5-7 passengers, or a Cessna Caravan for 7-9 passengers + luggage.

Flying time from the float plane river terminal at Vancouver International Airport (YVR) to the resort is approximately 60-90 minutes non-stop. From Whistler, figure on 80 minutes.

A truly adventurous start to your wilderness experience, it's absolutely spectacular soaring over the Coast Mountain range and wilds of BC.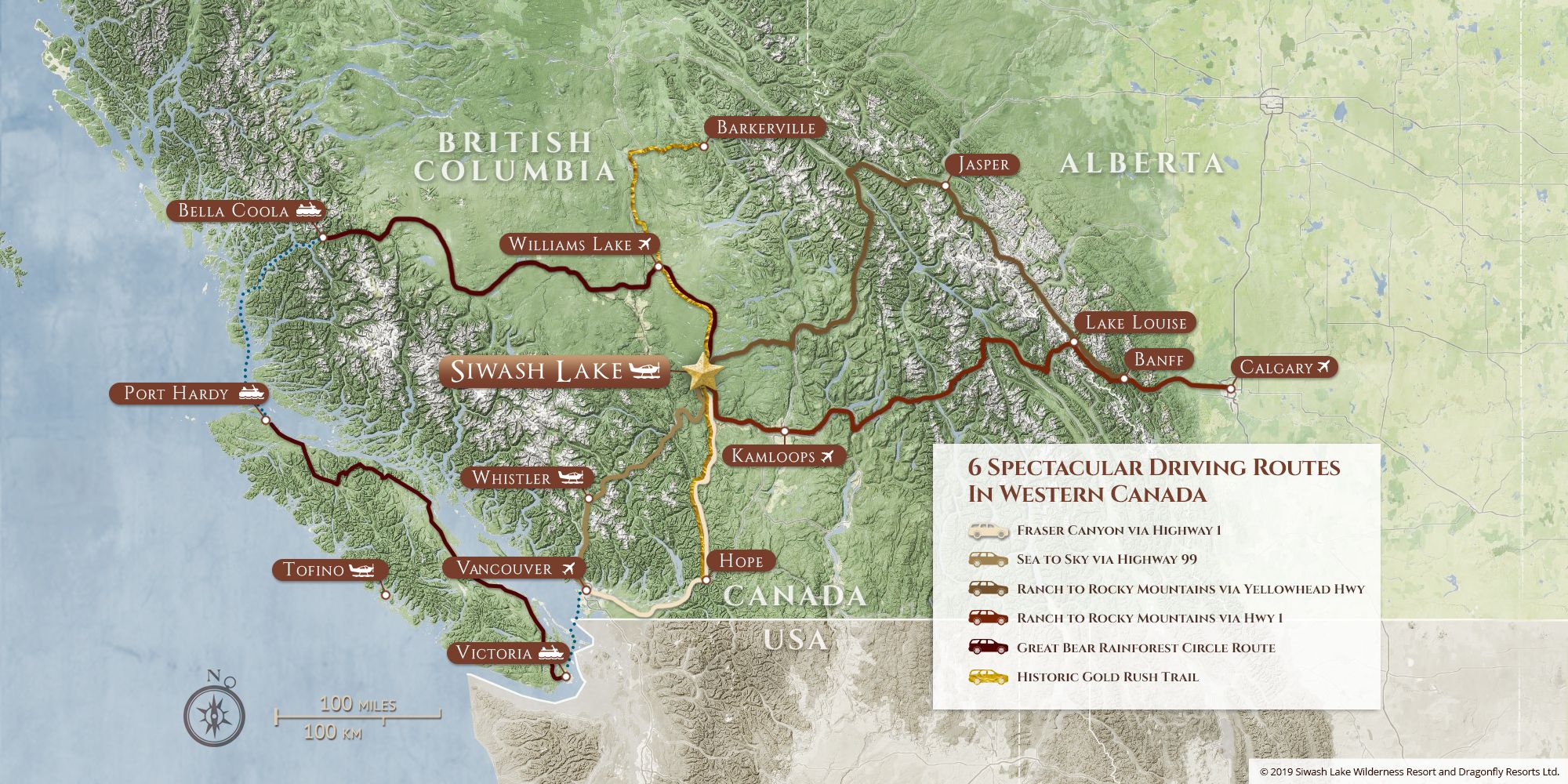 Self Drive to Siwash
Many of our guests drive to the resort themselves. Siwash is centrally located on many popular driving routes in British Columbia.
We are a great stopping point between Vancouver/Whistler and Jasper/Banff/Lake Louise.
Navigating is easy and roads are well maintained. We recommend using an SUV, however regular cars can make it in the summer months provided they are not low-clearance models.
Guest Pre-Arrival Kits contain a secret map with directions to the resort when approaching from the southwest (Vancouver/Whistler/70 Mile House) or the northeast (Jasper/Clearwater/Little Fort).


International Airports
Vancouver International Airport (YVR) is the closest to the ranch in Canada. Another option for international flights, especially for those who want to tour the Rockies on the way to the ranch, is Alberta—Calgary International Airport (YYC). The closest in the United States is Seattle International Airport (SEA).


Regional Airports
A commercial flight connection to one of our two Regional Airports, Kamloops (YKA) or Williams Lake (YWL) will get you even closer to the ranch. It is a gorgeous drive from both airports through cowboy country to the ranch—just 2.75 hours from Kamloops (via self-drive rental vehicle), and only two hours from Williams Lake (via self-drive rental vehicle).
Air Canada has several 50-minute flights daily from Vancouver to Kamloops, or from Calgary to Kamloops, and Pacific Coastal services Williams Lake from Vancouver with a one-hour mid-day flight. WestJet has a daily flight from Toronto to Calgary and then Kamloops.
Private Jets & Helicopter
For those VIPs who travel by private plane, there is a local airport nearby with paved runway large enough for a Challenger type aircraft to land and take-off. Airport code is ZMH. We will arrange a private transfer form there. It's a 45 minute drive to the ranch from this airport. Bigger jets can land and park at Kamloops regional airport (YKA). We suggest helicopter service from there to the ranch for our VIP's with large private jets.


---