White Water Rafting in British Columbia
Introducing something to look forward to, part 2! Switching gears from the Best Glamping in British Columbia — for adventurers looking to satisfy your adrenaline cravings, this one's for you. We've taken things to new heights (quite literally!). Jump out of your normal and into a raft for a riveting white-water safari. A quick 25 minute helicopter ride from the ranch gets you to Wells Gray Provincial Park — an iconic part of British Columbia, surrounded by 10,000 acres of pure wilderness. This adventure is something that caters to all experience levels, packed full of powerful rapids that first-timers & veterans alike will love!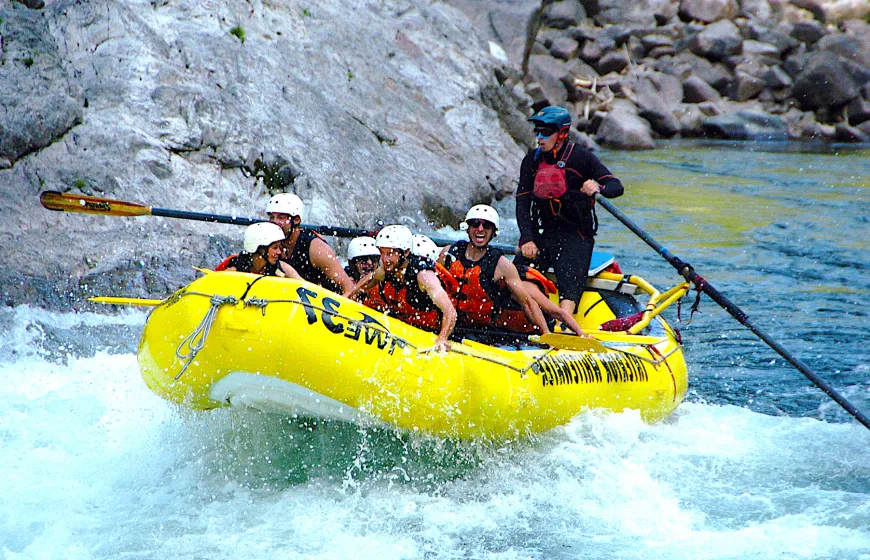 You'll work your way through thrilling whitewater against the backdrop of canyon walls & pristine forests. The breathtaking thrills & beautiful scenery are rounded out with chances to swim & enjoy short hikes along the way. Amid the whitewater excitement,  you'll appreciate the complexities of moving water and enjoy the interpretive knowledge of your guide, with intervals of hiking along the way.
 
How about combining the two? Imagine this: Drift off to the gentle hooing of an owl under a canopy of stars, then wake to loon songs echoing from Siwash Lake below. The sun's golden glow on canvas illuminates the tents, and a faint scent of wood smoke lingers in the crisp country air. Start your day off right with a leisurely stroll down to the lodge, then ensconce on the panoramic sundeck of the Ranch House for breakfast — carefully crafted with farm-fresh, organic ingredients, foraged on site. Then, step out of your comfort zone and into our privately piloted helicopter for a trip to Wells Gray Provincial Park for a whitewater rafting safari. Experience euphoria as you sync up with your rafting team to cut through the rapids, with periods of trekking through the Canadian-style jungle of the Wells Gray woods. Then, as the river slows to a meander, jump in to enjoy a relaxing float... Finish off the day with happy hour at the ranch, followed by a 3 course dinner, and live music around the campfire. How much better can it get?