Authentic Off-The-Grid, Luxury Wilderness Accommodations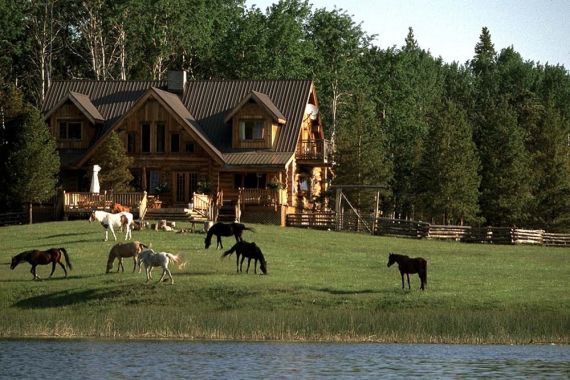 We offer you the finest, authentic British Columbia luxury ranch accommodations for an all-inclusive, high-end ranch holiday in the wilds of western Canada.
Our eco-friendly wilderness resort, built in the backcountry with hand hewn spruce logs and pioneer-style white canvas, overlooks shimmering Siwash Lake. It's a secluded hideaway set on 160-acres of private pastures; grassy wild hay meadows ringed by aspen groves. Guest accommodations are each designed to be in synergy with Siwash's natural landscapes. Our nearest neighbour, a working cattle ranch, is over a half-hour drive away on gravel roads.
As one of BC Interior's most show-cased retreats, and Canada's top luxury guest ranch, this National Geographic honoured property features accommodations with unexpected comforts in a remote wilderness setting. Within honey-hued log walls or canvas beneath the stars, you'll enjoy a soul-pleasing blend of the rustic & the refined.
The place is ideal for adventurous people looking for something completely different—a sophisticated, yet laid back environment with an intimate ambience. We offer discerning travelers a distinctive, understated version of luxury...

Peace and quiet, fresh air and wide open spaces. Full immersion within Nature. Experiences that are seldom replicated world-wide. And the opportunity to truly reconnect with your loved ones, in a private and safe haven.
In this gorgeous wilderness setting, we welcome a maximum of 12-15 guests. The 2017 wildfire limited our capacity to hosting no more than three separate families instead of six at one time. We are now, more than ever, a boutique operation—specializing in private, multi-generation gatherings.
Guest accommodations include two
Ranch House Suites
, and the
Cariboo Barn Loft Suite
; genuine wilderness lodgings with luxurious amenities where guests can feel royally pampered after a day of horse riding and adventure in the British Columbia heartland.
New for 2019—all guests will have the option of 'glamping' atop the Ridge at Siwash Lake. An overnight camp out at
Siwash Star Camp™
in a pioneer-style canvas wall tent with extended platform and 'roll-out' king bed dressed in fine linens, offers spectacular gazing at our starry night skies.
---